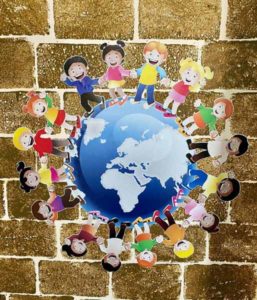 ---
A fun opportunity for your two-year-old to get some of their first peer socialization and play with other children. Ms. Sami designed and leads our Grown Up and Me model for a 10-week session that runs throughout the school year. We center on a love for song and language, parallel play, art, and time with new friends. 
This class meets on Tuesday mornings at 10:15 with a new theme each week.
FALL REGISTRATION IS CURRENTLY OPEN.
For more information and to register, visit our FRIENDS FOR TWO'S page.
---
Ignite your child's love of language and song in our brand new 3s program! We are thrilled to offer a new program exclusively for 3 year olds!
Ms. Vanessa is returning and we'd like to introduce Ms. Gloria as her co-teacher. Plans are underway for a new theme each week, developmentally appropriate for the 3 year old child. We will sing and read, play and craft, and make new friends with same-aged peers.
FALL REGISTRATION IS CURRENTLY OPEN.
For more information and to register, visit our Threerific 3's page.
---
Our monthly preschool parties offer delightfully simple, playful learning and socializing opportunities. Each party celebrates a season or holiday and is designed for kids ages 3-5. Kids get a "school-like" experience in an inviting and safe setting with their grown up right by their side.
Ms. Hilliary begins each program with a book and a Get Up and Move gross motor, ice-breaker activity and then guides them through a self-paced assortment of art, science, fine and gross motor activities. We finish with a snack around the table. They're a fun way to meet new friends! We look forward to seeing you at the Playhouse.
For more information and to register, visit our MONTHLY PRESCHOOL PARTIES page.
---
Join us for an inclusive homeschool program where children of all abilities will work together to solve problems, create art, and of course, play! We will read a children's book and work cooperatively to take on a related STEAM challenge. Students/Children will also have the opportunity to complete a related art project, make music and play.
Please let us know ahead of time if your child needs any accommodations. This class meets on Wednesdays from 10-noon. 
For more information and to register, visit our STORYBOOK STEAM for HOMESCHOOLERS page.
---
Every summer we offer something different and each program is typically centered around art and nature. These are afternoon, half-day programs. 
Visit our Summer Enrichment Program page for more details about details and registration. 
All programs require pre-registration.
If you are an experienced teacher or artist, contact Ellen if you're interested in collaborating your talents and offering a class or workshop at TOP. We are very open to new and original ideas!