---
We Welcome You to The Original Playhouse!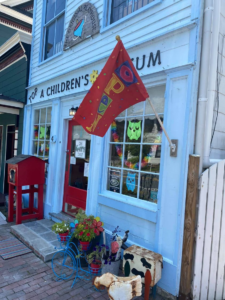 The Original Playhouse is pure delight for children. We say this with confidence because we hear and see their excitement as soon as they walk inside. Their eyes head straight to our colorful stairwell of picture books and the giant chameleon art table.
Two engaging floors of hands on and pretend-play ignite a child's imagination so that time slips away. The first floor includes three spaces dedicated to art and creative design, gross and fine motor, and constructive building for the curious thinkers.
Upstairs is designed for our friends who love to get lost in role play. Whether to dress up and perform on our corner stage, or cook a meal on our pretend campfire, kids express themselves freely inside each room. Or they can take a cultural escape and learn about the whole wide world and how acts of kindness can make a difference.
Step outside and enjoy our Caterpillar Trail packed with more fun: a two story wooden castle, a construction pit of Tonka trucks, a tight rope and balance beam all set within a fenced-in nature escape.
No reservations are required and there is no time limit on your stay. The average visit runs about 2 hours.
TOP was designed for children ages 3-9 and the activities are most appropriate for this developmental range. Toddlers are welcome to play with extra watchful eyes for their own safety.  During the school week, most children who visit are in the 2-5 year old range. For our 10 and older crowd, come on in!  We believe nobody outgrows the spirit of play. 
OPEN Play Gallery
---
---
Playhouse rooms
ART 101 ROOM

"Learning through the arts promotes the idea that there is more than one solution to a problem or more than one answer to a question."

Elliott Eisner, Professor Emeritus of Education, Stanford University

Children deserve the gift of time. In our busy and over-scheduled world, art offers a time for reflection and relaxation. Our art studio invites you and your child to enjoy an opportunity to craft your masterpiece. Perseverance is one of those 21st century skills that tomorrow's generation needs to succeed. Come, create and enjoy!

Remember: Aside from the sheer fun of watching a work of art evolve, art has tremendous value for children. When given the time, kids will notice what they might not have seen before, like all the shades of blue in a summer sky or all the detail on a butterfly's wings.

Drawing, painting and sketching help kids see clearly; and as they experiment with color and shape, they are more willing to take risks and learn from mistakes.
CAMP-OUT ROOM

For our families who love the great outdoors, this room is for you! This nature-loving room takes kids straight to an imaginary campground complete with a pretend waterfall, wood fire, plush stones and woodland animals, even insects too! Kids love playing in the tent and cooking on the fire. All with sounds of nature playing in the background to enhance the feeling of being outside.
CATERPILLAR TRAIL

Unstructured outdoor play encourages physical activity like running, jumping, and skipping, climbing a hill, digging in the dirt, or balancing on a log. Playing outside stimulates the imagination when kids make up original games or superpower adventures.

Our outdoor garden play space, AKA Caterpillar Trail, invites kids to explore the wonders of nature and appreciate the simplicity of fresh air. They can climb up the castle wall, practice their balance on the tight rope, make up an obstacle course with a friend, dig in the rocks with Tonka trucks, imagine the lives of all the fairies "living" in our garden and so much more.

Read more to see the research on benefits of playing outside: Outdoor Play Is Essential
ENGINEERIUM

"The fact is that given the challenges we face, education doesn't need to be reformed–it needs to be transformed. The key to this transformation is not to standardize education, but to personalize it, to build achievement on discovering the individual talents of each child, to put students in an environment where they want to learn and where they can naturally discover their true passions."

Ken Robinson, The Element: How Finding Your Passion Changes Everything

Discovering passion. As Tony Wagner discusses in his book, Creating Innovators, he reasons that through play, a child will develop a passion and in time, this passion turns to purpose. Turning play into purpose can transform today's children into tomorrow's innovators. The Engineerium is a room that encourages young thinkers to ask "Why?" and "What if?" and "I wonder?" It will guide a child's understanding about the mechanics of how things work.

Come to the Engineerium where children's brains ignite with self-discovery! The activities will spark their intrinsic curiosity and creativity. Your child's passion might just be waiting to blossom inside!

The Engineerium is loaded with hands-on equipment and toys intended for children to design and build. They'll get a glimpse of how the world works from an engineer's point of view. The Engineerium has several stations where your child can:

Design and build a skyscraper, a bridge, a roller coaster, a super slide. You decide!
Experiment and solve problems in your design through trial and error.
Collaborate and share ideas with each other—just like the real world!

Persevere and finish what you start! In this bright room with lots of space you will find tools, blocks and Lego's, marble ramps, magnetic toys, and a sensory trough all for you and your little engineer to enjoy and learn through the power of play.
RAINBOW PARK

We brought a taste of summertime at the park into this brightly lit rainbow room. Complete with a fun climbing wall for, well, kids who love to climb the walls! The TOP Ice Cream Truck is stocked with everyone's favorite summertime treat for kids to experience the feeling of being on the other side of the window!

Develop gross motor skills and confidence as you reach the top the climbing wall.

Practice early math and memory skills by taking ice cream orders and totaling prices.

Team with a friend and collaborate a system of taking, making and serving orders. Real World stuff!

Discuss everything you're noticing together and build new vocabulary. What a great way to reinforce strong communication skills!
READER'S THEATER

Welcome to the Young Reader's Theater, where kids enjoy the fun—and benefits—of performing stories that are provided to them or better yet, stories they've imagined all on their own! Stories, costumes, stage, props—they're all here!

Performing scripted or improvised shows builds a child's confidence, enhances language development, and generates creative thinking.

As a parent, you can join your child in the wonder and magic of his or her own imagination and help them build a library of stories in their minds.

With more stories in their brains, children have more ways to relate to others. Acting helps kids appreciate a range of perspectives and feelings. It's a path to greater empathy.

Thinking about the characters and events in stories help kids ask questions:

How did Jack feel when he first saw the scary giant?

What's going on in Cinderella's head when her foot slips into that glass slipper?

How would I feel if I was Goldilocks and woke up to Papa Bear's questions?

The Young Reader's Theater is the place for kids to explore these questions and more and embrace creative, expressive storytelling.
The WHOLE WIDE WORLD

Let your child take the lead! In the market, kids can pretend being shoppers, tourists, moms, dads, or vendors. There are fruits and vegetables, ethnic toys, and animal family puzzles to buy and sell (and of course, play with!) They can find countries on a world map. The experiential learning is endless!

In the All Around the World Playroom next door, the children can continue their play and pretend to give one of the many dolls a "check up" with our old fashioned ambulance, play school with a book or use the question cards hanging on the wall that offers investigations into the world map mural, or play any of the games that are typically associated with a region from around the world.

Why? Dramatic play is an essential component for emotional and cognitive development. Kids want to make sense of the world around them; and when we provide children opportunities to pretend to be different people in our society, their world grows. They learn how to negotiate with others and solve problems when they put themselves in the role of those they observe in their world.