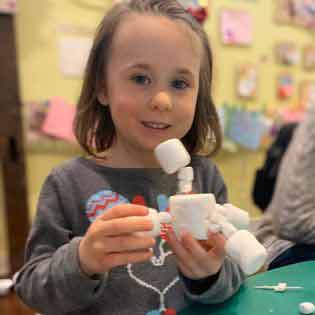 These parties are a popular event and fill up fast!
Our monthly preschool parties offer delightfully simple, playful learning and socializing opportunities. Each party celebrates a season or holiday and is designed for kids ages 3-5. Kids get a "school-like" experience in an inviting and safe setting with their grown up right by their side.
Ms. Hilliary begins each program with a book and a Get Up and Move gross motor, ice-breaker activity and then guides them through a self-paced assortment of art, science, fine and gross motor activities. We finish with a snack around the table. They're a fun way to meet new friends!
Our Monthly Preschool Parties all begin at 10:15am, the second Thursday of each month.
We look forward to seeing you at the Playhouse!
Upcoming Monthly Preschool Parties for the 2022-23 school year will be announced soon. they will run october – may
---
Mark your Calendar, visit our MONTHLY PRESCHOOL PARTIES event page.
REGISTRATION
---
Monthly Preschool Party GALLERY
---