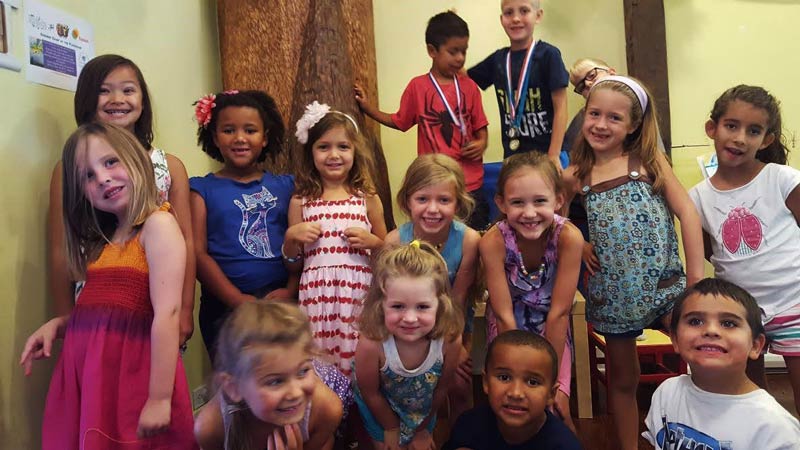 THE PLAYHOUSE WELCOMES ALL SCHOOLS, HOMESCHOOLERS AND PLAY GROUPS.
---
Let us help you to plan your next field trip or group event!
The Original Playhouse is the perfect choice for a field trip or a group event. From preschoolers to 3rd graders, the Playhouse offers kids a chance to immerse themselves in a world of pure play, battery and screen-free. We provide a safe and contained space so teachers and parents are free from worry about losing anyone. Parking is free and school buses can park right at our front door for safe arrival inside. 
We welcome all schools and learning centers, co-ops, scouting groups, MOMs clubs, and any other group who would enjoy playing together at TOP. The Playhouse has two floors of colorful and engaging rooms that satisfy so many different styles and preferences of play. We also have a backyard play area with toy trucks, play structures and a two-story wooden castle. Imaginations flourish and creativity flows inside our Playhouse doors. 
---
GROUP RATES
$8/per child
$2/per adult
For a discounted group rate, we require a minimum of 7 children.
Large Groups (30 or more): We reserve the museum for larger groups on Wednesday's when we are closed to the public. Other days of the week are based on availability. Our maximum capacity is 50 people. If you have a large group, we suggest scheduling over multiple days or times inside a day.
Group rates include a 2-hour visit, per group. A 5:1 child:adult ratio is highly recommended.
If you would like to reserve a group visit, please also read over our group guidelines and information (below).
To book a date, please use our Contact Form and provide details of your event or call 301-865-6500.
---
OPTIONAL ADD-ONS
Customized SCIENCE, ARTS, OR SOCIAL STUDIES activities are available, starting at $3/per child.
STEM play and design. How objects move (role, slide, etc) Making ramps with cardboard, pool noodles and free choice toys from our Engineerium for balls and toy cars to race. Students will discover how slope relates to speed or surface relates to friction.
Matter and how matter changes, for instance mixing liquid ingredients to make a solid (gak/slime)
Animal habitat, life cycles or animal characteristics craft
Any curricular-related request! Give us a call and we'll customize an add-on to your current content being taught!
---
group guidelines & information
For school-aged children, a maximum of 5:1 child:adult ratio is strongly encouraged.
Please have your class broken into small groups before you arrive.
Upon arrival, the children hang their jackets at the entrance, take off their shoes, and gather around our green chameleon art table.
We will welcome the class and briefly provide a little information.
For large classes, each small group rotates through the Playhouse. Half the class will begin upstairs and the other half downstairs for about 40 minutes and then switch. The final time can be used for playtime in our back yard if weather permits or offer the children free choice in their favorite room.
If there is a structured activity, we will divide the class into smaller groups so that proper guidance can be provided.
Food is permitted in designated areas within the Playhouse, however, is not encouraged to be a part of the field trip. There is a community park a block away with picnic tables and a playground that serve as a better option for eating and will offer a fun recess-type finish to their outing.