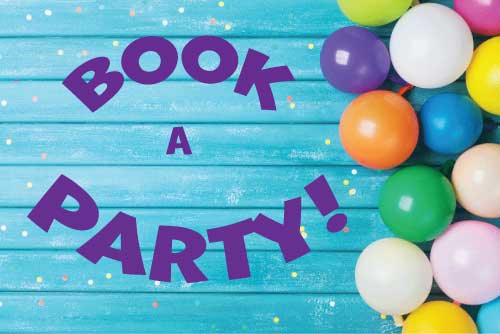 with the playhouse closing 2/28/23, our parties are full booked and we are not taking any new reservations.
PARTY at TOP!
Create memories and foster imagination for your child's next celebration.
We provide private bookings for your event.
party rentals
---
Playhouse parties are a local favorite because they're so simple and loads of fun for kids!
The best part for parents: NO house prep or clean-up post party! Families make themselves at home for a two-hour party with the entire playhouse reserved for your child's friends and family. Your kids will get to play and enjoy the museum exclusively with their own circle of friends, siblings, and cousins.
Birthday parties are the most celebrated parties at TOP, but we reserve our party schedule for any celebratory event or children's party, using the same time blocks and rental fees. For example, an end of year preschool party or a family celebration for a special moment or milestone in a child's life.
If you are simply looking for a group event for schools, community groups and playgroups, please visit our Group Reservation page for various group options.
Party scheduling: Our weekend calendar is fully booked
---
october – May Party scheduling
Saturday
10am – 12pm
1pm – 3pm
4pm – 6pm
weekday
4pm – 6pm
5pm – 7pm
june – september party scheduling
weekday
4pm – 6pm
5pm – 7pm
TOP recommends booking your date in advance, as some months and dates fill quickly.
party rental cost & details
---
PARTy reservations:
$265 venue fee with admission for up to 15 children ages 2+ and up to 20 adults.
Additional children are $10/per child, Additional adults are $5/per person
Additional party time can be added or reserved, upon availability, for $50/half hour.
parties include:
Free use of our art room with craft materials included. Our art table seats up to 20 children and serves as the food table after kids finish their artwork.
A staff member to help facilitate the party, welcoming guests, helping set up and serving food, available to address any questions or concerns, and managing clean up.
Guided and structured art projects are available upon request for $4/per child, per project.
Optional Guided Art Projects

Take something off your to-do list and know that we have the party favor covered. These works-of-art are fun for the kids, add a memory from the day, and give the kids something other than a bag of trinkets to take home.

Best of all, it saves you time from shopping, assembling, and schlepping all of that extra "stuff"! $4 each.

Winter Snowman

---

Just like a snowflake, no two snowmen are alike and kids love creating their own version, unique to themselves.

It's fun taking a plain white sock and converting it into a work of art to take home.

Sharpie-Dyed Tile!

---

These are 6 inch ceramic tiles that kids design with Sharpie markers. After they finish coloring them, we give them an alcohol spritz so the colors "bleed" into each other and create a beautiful effect. You can add a quote or leave it as is.

It can be wall art, a trivet, a small "tray" for the kitchen table or whatever you decide. In the end, it's a happy memory for kids to take home.

celebrate spring suncatcher

---

These are a new find, compliments of the Jersey Mama on Pinterest. Kids love finding treasures of gems in our sensory table so why not bring them into our art room?

These suncatchers will brighten any window not only because of their cheerful colors, but because they're handcrafted by your child and will offer a happy memory from a Playhouse party. Kids will take their suncatcher home knowing they'll need to "rest" for a week before removing them from the form.

---

---
Parties do not include:
Paper products or snacks. Host family will need to provide any food or paper products.
TOP's Party Vendor Recommendations

A popular cake baker we highly recommend: Mommy Magic Cakes in Mount Airy. If you have any design in mind, Mommy Magic Cakes will try their best to accommodate.
Please review our PARTY AGREEMENT.
To book a party, to reserve the playhouse for a day, or for any inquiries, call 301-865-6500 (during our business hours) or use our Contact Form for inquiry.
Parties gallery
---